The Zorn Project in Sweden and America
---
How it began
The Zorn project began in 1988 when we first saw an etching by the artist in Louise Hall Tharp's biography of Augustus Saint-Gaudens. As avid, yet unfocused, collectors of prints, we were struck by his bold impressionistic approach to the medium. We vowed to learn more about Anders Zorn (1860-1920), but at the time, there was little available in English. Fortunately, Elizabeth Broun, curator at the Spencer Museum of Art at the University of Kansas, Lawrence, held an exhibition of Zorn prints in 1979. The exhibition was accompanied by a catalogue that was helpful in our research.
Initially, we were struck by how much contact Zorn had with America and Americans and that so little research had been done on this aspect of his career. In our research into Saint-Gaudens, we corresponded with the late Burke Wilkinson, a biographer of the American sculptor. He thought we had a knack for research and writing and suggested that we "do Zorn." Knowing almost all the literature on the artist was in Swedish, it was not until we determined that we could translate Swedish to English that we could proceed.
Our research took on a life of its own by 1989. We realized it was necessary to travel to Sweden to see Zorn's work. We wrote the Zorn Museum in the artist's hometown of Mora, Sweden, six months before our trip, but had heard nothing by our departure date. Ironically, when we arrived home from Sweden, a letter from the museum was waiting for us.
Stockholm and Serendipity
Arriving at our hotel in Stockholm on that first visit, we decided to take a walk and find a place to eat. Passing the Royal Library and the busy intersection of Stureplan, we continued south toward the water. Through the large windows of an imposing building on the waterfront, we noticed that people were eating. We decided to give it a try. We were greeted by the equivalent of a Baltic duke in full regalia, who led us to a window seat.
To our surprise, we had our first meal in Sweden at Operakällaren, Scandinavia's most opulent restaurant. We had heard of it in our research because of Zorn's friend, artist Oscar Björck, who painted murals in the main dinning room. Opened in 1787, when King Gustav III had an opera house built on the site, the restaurant was in operation when the king was assassinated at a masked ball there in 1792. The story became the basis for Verdi's Un Ballo in Maschera (1859). A new opera house and restaurant were built at the end of the 19th century.
Our first stop the next day was at the National Museum, which we knew had considerable Zorn holdings. At the information desk we asked where Zorn's could be found and were told that there were no Zorns. Puzzled, we then went to the Waldermarsudde Museum, the former home of Prince Eugen, an artist and contemporary of Zorn's. After viewing the collection, we stopped at the museum's bookshop. We told the woman at the shop of our interest in Zorn and how disappointed we were that there were no Zorn's on view at the National Museum. She pointed to a poster on the wall and said, didn't we know that all the Zorns were in Mora, that we would have to go to Mora to see Zorns? We laughed and said that we had reservations on the train leaving the very next day for that town. The poster the woman pointed to was for a jubilee exhibition of Zorn's work. It turns out that it was the fiftieth anniversary of the opening of the Zorn Museum (1939-1989).
Mora
The next day, in early August, we made the five hour train trip north to Mora and disembarked to sleet and threatening skies. For two Americans who frequently traveled to Italy, the weather thoroughly depressed us. We wondered what we were doing in such a Godforsaken place. Getting up early the next morning, we walked over to the Zorn Museum in the chilly weather and our gloom turned to joy. We had stumbled upon the most comprehensive Zorn exhibition since the artist's death in 1920.
The exhibition featured Zorn's watercolors, oil paintings, etchings, and sculpture. As we went from room to room in the museum, which was designed by Ragnar Östberg, the architect of Stockholm's distinctive City Hall, we realized that we had, in one instant gone from seeing no Zorns other than in books and catalogues, to having spread before us a comprehensive survey of the artist's works. In one room we came across Vårt dagliga bröd (Our Daily Bread), a large watercolor commissioned by the National Museum, Stockholm, that depicts Zorn's family members harvesting potatoes while his grandmother prepares food for the group on an open fire in the field. Willow stood before the painting and was suddenly struck by a feeling of déjà vu. Being in north-central Sweden and seeing this painting, she was transported back to her girlhood days in rural northern Minnesota. She remembered the large harvest dinners held for all the neighbors who joined together to help one-another with the crops.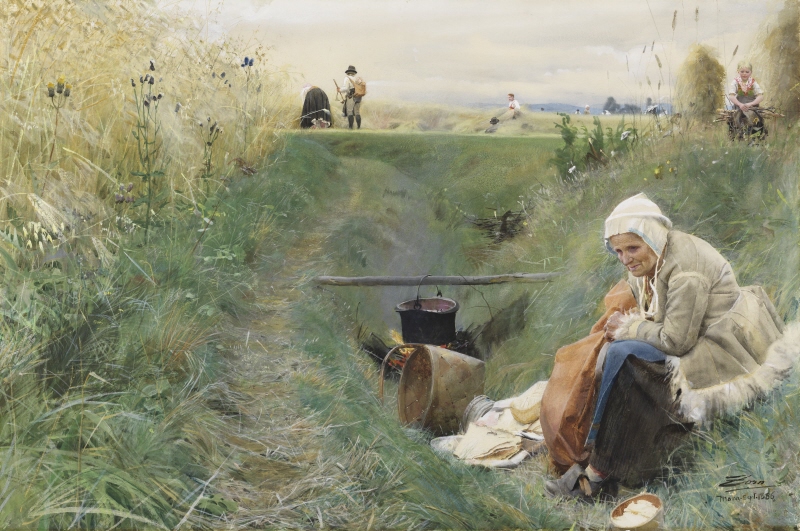 ---
The Second Trip Begins
The next summer, 1990, we arranged an overseas delivery of a new Volvo and traveled to Sweden to pick it up. Before we left, Bill called Rättvik to book a room at a hotel. Rättvik is a beautiful town on the shore of Lake Siljan, twenty minutes south of Mora.
When we arrived in Gothenburg, we were picked up at the airport and taken directly to the Volvo "birthing center." We were surprised to learn that our Volvo representative was a native of Tennessee who had lived in Sweden for several years and married a Swede. He was preparing to return to America that week and seriously advised us to get in our new car and head directly for the Norwegian border. He told us that the Swedes would drive us crazy. We were sure he was on the verge of a nervous breakdown. Now, after over eighteen years of traveling to Sweden, we have found the opposite is true, and we have developed many wonderful relationships.
The Journey Back to Mora
Leaving Gothenburg that year, we headed to Zorn's home province of Dalarna. We decided to find our hotel in Rättvik before heading to Mora to do our first research at the Zorn Museum. After driving up the hill overlooking the lake, we arrived at the hotel, a ski lodge that was located right next to the ski lift. The parking area was suspiciously vacant, and we walked up to the door to find it locked. We knocked, and eventually a woman opened the door. Upon entry, we were told that the hotel was closed for the summer. What about our reservation? Sorry.
We then did some serious negotiating, stressing that we were extremely low maintenance. The couple that ran the placed agreed that we could stay, but that they would only stop in the mornings to leave breakfast and to feed Nelly and Nancy, their pigs housed in the field behind the hotel. We had the run of the place for over a week, which was wonderful, while we did research in Mora. It was odd having to turn prospective customers away from the hotel. We have fond memoirs of playing cassettes of the local spelmans musik, traditional folk music from the Lake Siljan area, over the p.a. system in the empty main room of the ski lodge. The view of Rättvik's church and the pier that juts far out into Lake Siljan from the hotel is unforgettable.
New Friendships and Zorn
When we first arrived that year at the Zorn Museum, we were not sure how we would be received, but Dr. Birgitta Sandström, who had recently been named museum director, welcomed us and allowed full access to the museum's extensive archives. It was the beginning of a wonderful relationship with the museum and its hardworking staff. We have twice had the honor of showing Dr. Sandström our own city during trips she has made to America.
Willow returned to Mora in November 1992 to do more research, while Bill worked on a survey of Zorn's works in American collections. She bought our first Zorn etching in Gothenburg (Saint-Gaudens and Model, 1897, A. 114).
Willow returned to Mora in February of 1994, where she stayed in the house Zorn built for his mother on the museum grounds, the "Yellow House." That year, she met two women who would become great friends, Kristina Karlsson and Gunilla Frost, who had taken over the management of the Mora Hemslöjd. Dalarna and the area around Mora and Lakes Siljan and Orsa are known for preserving traditional handicrafts, costumes, music, and art. The Hemslöjd movement, which preserves and promotes quality handcrafted goods, began over a hundred years ago in Leksand, south of Mora, and spread throughout the country. Mora Hemslöjd, the second to open, celebrated its 100th anniversary in 2005. Emma Zorn, the artist's wife, helped in its creation.
Kristina, Gunilla and Mora Hemslöjd
After our first visits to Mora, we were disappointed that the hemslöjd shop was not very interesting–a bit too touristy. Kristina and Gunilla were asked to take over the operation and immediately they made a huge difference. The quality and variety of the items improved and they brought real enthusiasm to the venture.
Over time, we met Jan-Olaf Frost and Anders Karlsson, the women's husbands, and the eight children, four and four, from each family. Jan-Olaf, a member of the Frost knife family of the region, is an engineer. He is also an expert in preserving the old timber structures of Dalarna. Anders is a science teacher in Rättvik. He has taken students to Kenya several times, where they meet their Kenyan pen-pals and live with the families.
There have been so many pleasant memories involving all of them, but for Bill, it has to be celebrating his 50th birthday, a big event in Sweden, as guest of honor at a kräftskiva, or crayfish party, at the Frost's fäbod, a rustic chalet at Hökberg. It is positioned above Lake Orsa and the East Dala River. Bill had another birthday party at the Karlsson's with Dr. Birgitta Sandström and others as revelers. One Midsummer, a national holiday in Sweden, Bill had the honor of joining the men who hoisted the Maypole into place on the grounds of Zorn's Gammalgård. It is the site of old timber structures, some dating to medieval times, that the artist moved to his property to preserve them.
Many Februaries
Willow, who has not missed a February in Mora for years, can look back on the great times shared with Kristina and Gunilla (and family members) on their almost yearly trips to the Röros Winter Market, about five hours northwest of Mora in Norway. Traders come by horse-driven sledges packed with furs and craft items from all over Scandinavia. They form a procession as they come down from the mountains into the former mining town to trade at the fair. Another winter aspect that Willow enjoys is dog sledding at Brintbodarna, north of Mora, at Joop and Georgette's dog compound. As a former Samoyede owner, she loves the sled dogs and knows all of their names. Most of the dogs are Samoyedes.
One February, Kristina and Gunilla arranged for Willow to view the start of the Vasaloppet cross country ski race, the world's largest such race. She was part of an entourage of V.I.P.'s, such as the Chinese and Korean ambassadors to Sweden. Kristina, Gunilla, Anders, and some of the children ski in the race each year. Gunilla and Kristina, who have been friends since childhood, were back-to-back kranskullor, a great honor for young women from the region who dress in traditional costume (Moradräkt) and present the laurel wreath crown to the winner of the race. Gunilla and Kristina are experts on Moradräkt and have published a book on the subject.
Fourteen thousand skiers start out at Sälen near the Norwegian boarder and race the 90 kilometers to Mora. The race, begun in 1922 by journalist Anders Pers, retraces the path that Gustav Vasa took in 1520 when he returned to Mora to rally the people to banish the Danish king and his army from Swedish territory. Vasa was Sweden's first "modern" king.
One year Willow had a special honor. When Zorn was alive, every February 18th, his birthday, a female visitor to Mora would be allowed to wear Zorn's huge wolf skin coat, the same coat he wears in his self-portrait from 1916.
Crystal and Silver
In 1998, we again purchased a car using overseas delivery–this time through Saab. We drove along the beautiful west coast of Sweden north of Gothenburg. At Vanersborg, we happened upon Bo Knutsson's antique shop on the town square. By coincidence, it was the 100th jubilee of Orrefors, one of Sweden's premier glassworks. Knutsson, who has another shop in Stockholm and is a frequent participant in the Armory design shows on New York's Park Avenue, has one of the finest collections of art glass in Sweden. This year, he mounted a special exhibition to honor the glasswork's anniversary. At the gallery, we saw works by Simon Gate and Edvard Hald, among others. Over the years, Willow has seen Knutsson in New York and at the large Antikmässan, held just outside of Stockholm each winter. She has developed an appreciation of Swedish silver designers such as Wiwen Nilsson and Torun, and the Gustavsberg potter Frieberg. After spending most of the morning in the shop in Vanersborg, we later saw Birgitta, the woman who helped us earlier, in town. We resumed our talk and she was kind enough to invite us to her home for dinner that evening. Surrounded by art by Prince Eugen and Isaac Grünewald, we will never forget the lovely hospitality of Dr. and Mrs. Koritz. He was a huge jazz fan and declared that he had never been to America, but always enjoyed his trips to New York City! Sadly, he died shortly after our visit.
Festivities and Water
We made our way to Mora, where Bill celebrated his 50th birthday. Dr. Sandström and the museum staff hailed Bill's special day with a prinsesstårta, a fantastic cake covered in green marzipan. More importantly, Dr. Sandström presented Bill with Zorn's autobiographical notes (1982), a book that was out of print. Fortunately Dr. Sandström has re-issued the memoirs in a beautifully illustrated edition (2005).
After so many festivities--and very little research--we finally left Mora. Because the Water Festival was currently on in Stockholm, we made reservations to stay in the Stockholm Archipelago, at the Hotel Saltsjöbaden. We had been in the capital during the festival before, and it was just too kinetic for us. The yearly event was eventually canceled, a victim of its own success. With the Saab program, we took advantage of the discounted prices at special hotels around Sweden.
Driving from Mora to Saljsjösbaden was much more complicated than we had imagined. We were told to follow signs to Nacka, an eastern suburb of Stockholm, but never saw such signs. When we finally arrived at the majestic hotel about twenty miles east of Stockholm, we were informed that our room was not available due to water damage from a burst pipe. By this time, Willow was exhausted from driving most of the day while Bill manned the maps for the labyrinth-like trip through the roads that wind around Stockholm's many waterways.
The Grand Hotel
Willow was distraught and near tears when she heard that we had no room, but Bill kept listening to the woman at the reception desk. She said that a room had already been booked for us at the hotel's "sister" hotel in Stockholm and that we could leave the car in Saltsjöbaden. They would pay for a taxi to take us to the city–just where we did not want to go during the Water Festival!
But Bill heard the magic words--the "sister" hotel was the Grand Hotel, Scandinavia's finest, and he nudged Willow to stop her protests. After the taxi negotiated the crazy festival traffic, we made our way to the hotel. Because of a small snafu upon arrival, our room was upgraded to a front room with a view of the Royal Castle, the Riksdag (Swedish Parliament), and all the bustle of the Water Festival. The marble bathroom, with its own phone, was large enough to live in. Even with the festival, it was nice to see Stockholm from room 444 of the Grand Hotel this one time and receive Saab's nice hotel discount.
The Dalarö Adventure Begins
One of our more interesting trips occurred without a car. One summer, we decided that before going to Mora to do more research, we should visit Dalarö, one of the thousands of islands east of Sweden's capital that make up the Stockholm Archipelago. Zorn's mother-in-law, Henriette Lamm, had a summer home on the island, where Anders and Emma Zorn stayed most summers. It was there that Zorn perfected his depiction of nudes en plein air. With the female form, rocky landscape, sea, and the mystical Nordic summer nights, Zorn, when at his best, produced a new genre in art.
We had trouble getting the phone number of the hotel, so Willow obtained it from Swedish information. She had several animated phone conversations from home with a fellow named Benny at the hotel. Without a car, we decided it was more cost effective to hire a SAS limousine at Arlanda Airport than to take a cab to Dalarö, some thirty miles or so southeast of Stockholm. We waved the driver on when we arrived at the hotel, even after he suggested we check inside before leaving us practically in the middle of nowhere. No, we were O.K., Bill recognized the place from a brochure. We would be just fine.
"Saint Ulrika"
We were now a good forty-five minutes drive from Stockholm. We went inside expecting to be greeted by Benny, but there was no Benny--and there was no reservation. Willow had been speaking to a man from another hotel with a similar name on the far side of the island. With the driver gone and jet lag setting in rapidly, we asked, at the height of Swedish summer, if there were any rooms to be had at this hotel. The receptionist said that she was sure all the rooms were booked, but would check. We sat down, where we did the proper thing for a married couple–we blamed each other for the debacle. As the recriminations mounted and fatigue took over, Ulrika, the young woman at the reception desk informed us that there had been a last-minute cancellation –there was a room for us at this lovely inn.
Ulrika called Benny at the other hotel to tell him that we would be staying at Smådalarö Gård, not the Dalarö Hotel–no problem. It turned out that the Smådalarö Gård is known as one of the finest resorts in the archipelago, with excellent food and a beautiful view of the sea. We christened the receptionist "St. Ulrika" and gave her a Walking Liberty silver eagle coin as a remembrance of two wacky Americans. We brought a roll of the beautiful Adolph Weinman designed coins to give to friends in Mora. Midsummer on Dalarö, with its lovely late evening light, helped us to better understand Zorn's work from those distant summers.
Sweden in America
One of our best Swedish adventures happened, oddly enough, in Michigan. For Willow's 60th birthday in 2005, Kristina and Gunilla decided that they, with their husbands Anders and Jan-Olof, had to come to Detroit to celebrate with their friend. As soon as the busy Midsummer season was over at the Mora Hemslöjd, they jumped on a jet. The four arrived the afternoon of the International Freedom Festival Fireworks, a huge event celebrating the friendship between Canada and The United States that annually draws over a million people to the shores of the Detroit River. We live downtown, in a thirty-story co-op and have a great view of the fireworks. Picking our guests up at the airport was the easy part. Getting back into town, with freeway closures and the influx of traffic for the big event, was a great concern. Fortunately, we made it and had a great evening.
Among the many activities over two weeks with our friends, we spent a lot of time at our pool, cooked together, took a boat trip on the Detroit River, sailed on Lake St. Clair with other Swedish friends, and took the group to our favorite resort town south of Goderich, Ontario, on Lake Huron. We formally celebrated Willow's birthday at the Red Pump restaurant and stayed upstairs in the three guest rooms. The weather was great, and we all had a wonderful time. In Windsor, Ontario, across the river from Detroit, we toured the historic Hiram Walker House on the grounds of the Canadian Club Company, founded in 1858. Our Swedish visitors purchased Classic Twelve, the best of Canadian Club's blended whiskies. Willow, the following February in Mora, had the pleasure of sampling the aged drink, which had been a favorite of Zorn's. We only hope our Swedish friends come again to America, like Anders Zorn did so often one-hundred years ago.